In today's fast-paced economy and complicated technological landscape, speed of innovation becomes a top priority. DevOps enables your application teams to innovate, automate and accelerate their software delivery.
We help you achieve positive business outcomes by helping you implement and maximize DevOps efficiencies, reduce Costs, drive business results and growth. We focus on technical and process aspects letting you to focus on your business.
Better IT alignment and business responsiveness

Faster, smaller, more frequent releases

Improved Quality of code, products and services

Improved Client and Employee Satisfaction

Less Waste and fewer defects
DevOps Practice Implementation Services
Accelerate your DevOps Adoption
Our services are focused on implementing one or more of the following DevOps Practices within your development team(s).
Continuous integration and continuous delivery (CI/CD)
Version Control
Agile software development
Infrastructure as code
Configuration management
Continuous monitoring
Read more about these DevOps Practices.
Azure DevOps Implementation
Accelerate your DevOps Adoption with a single comprehensive solution and our services
We help you implement various Azure DevOps components with our expertise and industry best practices.
Boards
Repos
Pipelines
Artifacts
Test Plans
Our Expertise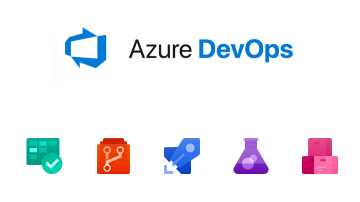 Standard
8 Hours of DevOps Consulting
Standard Support
Premium
20 Hours of DevOps Consulting
Premium Support
Custom
DevOps Consulting to suit your needs
Support billable as required
REQUEST


FREE CONSULTATION TODAY.

.